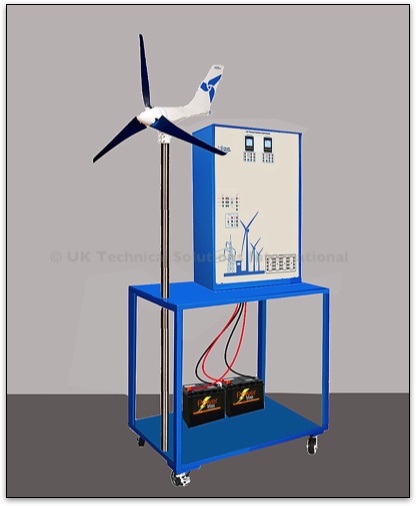 TSI-PTSS 5070 Wind Turbine Module

This
module represents the typical configuration of a wind power generator, used to convert the wind's kinetic energy directly into mechanical energy and then use that energy to generate electricity.

Typical Experiments include:

Study of wind energy

Calculation of the average power developed by the wind at a specific geographic location

The wind power generator - typical structure, installation and orientation

The "Brushless" generator

Study of the voltage regulator and its performance in relation to variations in wind speed and energy conversion

Storing energy

Typical applications

Charging batteries

Parallel synchronisation of AC power output with a mains network

The PTSS 5070 includes a wind power generator mounted on a trolley with an interface and control panel.

Wind Turbine specification:

Output: 400 W

Startup Wind Speed 3,6 m/s

Rotor Diameter 1.17 m

Voltage 24V

Turbine Controller Microprocessor-based Smart System

Internal regulator

Cast aluminium body

Injection-moulded composite blades

Permanent magnet alternator

Load regulator
Simulation Mode (Indoor use)

A motor with a speed regulator and an adapter is installed in place of the turbine blades for generator operation in a windless environment.
This system, enables the user to power the wind turbine with its blades removed indoors and investigate its operation over a range of simulated wind speeds.

It is then possible to determine the power output of the turbine with the control panel instruments. The system is supplied with an inverter for speed control of the motor. Two 12-volt batteries are used for storage of electricity and for experiments relating to battery charging.

The control panel has a large LCD display to monitor the system and 2 digital power analysers. It also includes a load regulator, digital ammeter, digital voltmeter, battery charge controller and an inverter for three- phase grid connection

The wind power module can be interconnected with other units from the Power Training Systems Simulator range such as the PTSS 5010 Power Plant Module.

This allows the user to experiment with the parallel connection of the 3-phase and 1-phase output from the wind power system and the mains grid.