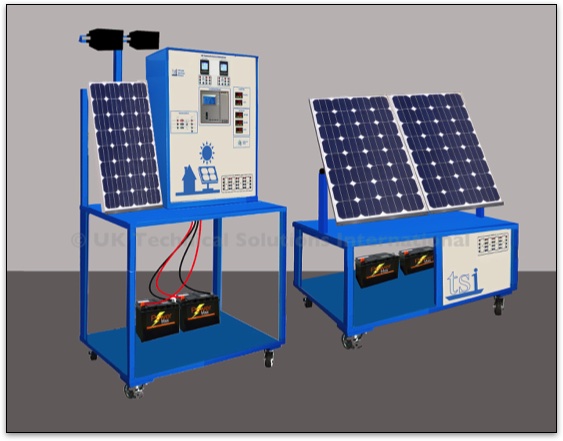 TSI-PTSS 5080 Solar PV Power System Module

This is a modular system that provides a practical way to explore the technology of photovoltaic panels (PV) and the methods used to generate and store power and then export the power via parallel synchronisation with the mains. (Feed in tariff operation).
The system provides two 12V 100W PV panels (total 200W) mounted on a mobile tilt stand to adjust the lighting angle and allow the user to explore the conditions of maximum efficiency of the panel in relation to the incident angle of the suns rays. It is possible to practically explore series and parallel connections of the two panels.

The unit can be easily located outside the lab for use in direct sunlight. A special PV Panel connection cable is provided for this use.

Typical Experiments include:

Calculation of the average power developed by the sun in a particular location,

Characteristics of the photovoltaic cells,

Energy balance,

Performance of the system

Series and parallel connections of photovoltaic panels

Conversion and distribution

Energy storage

Analysis of the use of energy system and measuring the voltage and current

Battery charging

Parallel synchronisation of AC power output with a mains network

A control panel is included on a separate trolley, this also has a single 12V 100W fixed position PV panel with an integrated sun lamp light source.

This allows for indoor experiments and instructor demonstrations. A clear screen printed legend provides circuit details and device identification for all the control and monitoring elements.

These include:

1 x Load regulator for solar panels

3 x Digital ammeter connected to the battery and load

1 x Digital voltmeter connected to the load

1 x Digital voltmeter connected on solar panels

2 x Batteries with charger and charge controller

1 x Solarimeter

1 x Inverter for 3-phase grid connection
Simulation Mode (Indoor use)

A single fixed position PV panel with an integrated sun lamp light source is located on the control module. Using a variable light level control. it is possible to determine the varying power output of the PV panel with the control panel instruments.
The control panel has a large LCD display to monitor the system and two digital power analysers. The system can be connected wirelessly to a wi-fi router to enable remote operation via Ethernet from a PC or tablet.

The simulator can be interconnected with other units from the Power Training Systems Simulator range such as the PTSS 5010 Power Plant Module and the PTSS 5070 Wind Turbine Module

This allows the user to experiment with the parallel connection of the 3-phase and 1-phase output from the solar PV power system and the mains grid.