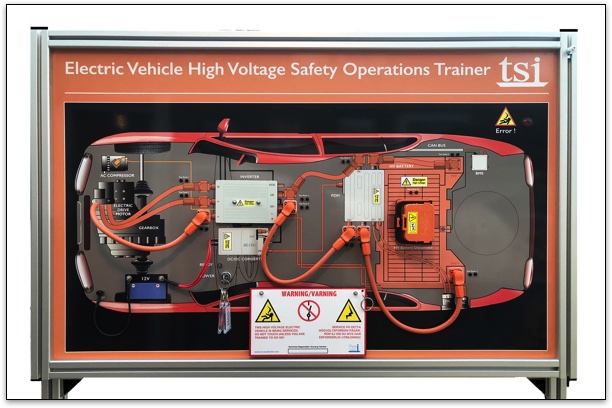 Electric Vehicle High Voltage Safety Operations Panel Trainer


This mobile training stand has been specifically design to teach the principles of safe working on Electric Vehicles.
It includes a simulation on a typical electric vehicle power and drive system. A full colour graphic shows the layout and the interconnections of the various units including:

HV Battery Pack

Battery Control Module (BCM)

HV DC/DC Converter

Inverter

AC Compressor

Drive motor and gearbox

12V Battery
It incorporates real OEM EV components including cables and connectors as well as a Service Disconnect Plug. These can be disconnected and voltage measurements can be performed using the test points provided. The 12V Battery can also be disconnected to allow the user to perform EV disabling exercises.
All the voltage are kept to safe levels of 12V DC and 12V AC. In the training manual there is a reference table that shows the multiplication factor that should be applied to obtain the actual voltages that would be found on a real vehicle.
The lid of the inverter can be removed to provide access to the internal connections for the inputs and outputs. These can be used to check if the EV system is fully disabled before work commences.
An internal electronic control system provides audible and visual warnings if the user attempts to disable the EV system without following the proper procedures as documented in the courseware provided with the trainer.
It also incorporates a capacitor system that creates a decaying DC voltage once the HV Battery is disconnected.
Voltages will be present for several seconds once power has been removed, just as in a real system.
An EV Safety sign is also included. This has to be mounted on the vehicle when it is being worked on.
Any attempt to remove the top of the inverter or work on the system without the safety sign in place will trigger the warning system.

We recommend the use of our
Safety equipment and tools for electric vehicles training stand
with this trainer as it provides access to all the required equipment used when disabling Electrical and Hybrid vehicles.


Order as: TSI-AUT HEVSOP100


Back to EV and HEV Training Equipment page